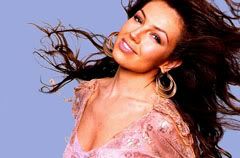 The Mexican singer and actress Thalia and her great friend, music producer Emilio Estefan came last night at Dolphin Stadium in Miami Florida, to enjoy the concert that gave Madonna.
Thalia and Emilio were in the VIP area of the enclosure, and at the end of the show came to the backstage area to greet the Queen of Pop.
Madonna will arrive Friday evening or Saturday morning to our country, to appear this weekend at the Forum Sol de Mexico City with his successful tour Sweet & Sticky.