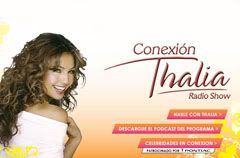 In the midst of the most congested weekend of shopping, we talk about how to react when he learned that our son us into debt carrying a credit card for more than $ 60000.00
Thalia connection, as always putting their bit to improve their lives, is invited to Bevione July, to discover how to live alongside the in the area and begin investing positivism and a good vibe in the children's home.
Xavier Serbia returns with one of the great lessons that are priceless ... Listen to him before you go shopping!
A Mega interview with the lady who won the Immortal Love of the sexy and seductive "Gabriel" Vampire interpreted by Chayanne. Only in Connection Hot Angelica Celaya story this couple what toward it until he drew attention to the director.
Last weekend to vote for their favorite "A STAR playing."
And if this thinking of giving away something good happens ... the voice! Tell everyone that every weekend there is a place where they can enjoy the sympathy of Thalia, entertained, informed and live conectadísimos Connection Thalia