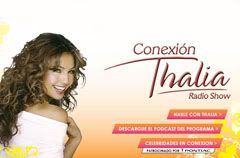 At a time when the economy is a main course of conversation ... we ask our people who manage the money better, men or women.

Thalía connection brings predictions for 2009 with the renowned psychic Deseret Tavare

Luis Magaña us updated with news and entertainment Xavier 2009 that Serbia is committed to Thalía Connection listeners learn to manage their finances.

Pedro Fernandez gives us a connection with the beautiful Thalia Caliente and not lose what you asked ..

Connecting Thalía 2009 edition is better than ev
er.