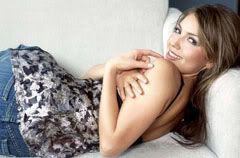 Thalia Weaving a gorrito is already in the campaign "Knit One, Save One" of the International Save the Children, "and it occurred to ask you, Dear their fans, who will join her and weave in a gorrito save millions Babies of very needy around the world.

The campaign "Knit One, Save One" (Weave One, Save One) want to mobilize all those who want to help save babies in countries where there is very little basic care for newborn babies. Weaving a gorrito to (and send it to the organization "Save the Children"), make a donation of $ 10 (for equipment essential for a newborn baby) and write a letter to the incoming President of the United States to increase aid funds for mothers and babies in developing countries are sowing a seed for a better future for many babies in need.

Visit the following links so they can read all the details about the campaign and instructions on how to weave the gorrito and how do you reach the "Save the Children." Click on the button that says "Download our Action Kit" and when they reach the next page, enter all your information to enable the organization to provide them access to a file in Word format and other files in PDF format, to choose which want to get off their computers. After that saved the file on their computers, Read it to know all the details of the campaign.