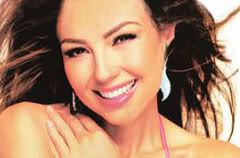 It is for this reason that I could not promote as would have liked my last album, a material that has me very orgulosa, as the output and quality of it is first. "

On the other hand, states that the star was awaiting the end of its renovation with Emi Music for three more discs, which was held between 2004 and 2005 by $ 26 million, to be able to sign an exclusive with Casablanca Records label, her husband Tommy Mottola. It is said that Thalia has a theme engraved with English Robbie Williams, which will be launched as the first single with his new label home.

What is a fact is that Thalia is free, healthy and very happy. Next year will come up for sale his second book entitled: Thalia: Radiant. The Ultimate Guide to a Fit and Fabulous Pregnancy, published by Chronicle Books.